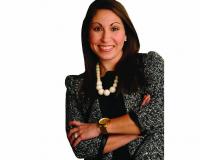 After graduating college with a Marketing degree, specializing in visual merchandising, Brettne wasn't
really sure what she wanted to do and how she wanted to use her degree. One thing she did know- she
loved working with people. Many close friends and family brought it to her attention that Real Estate
provided the perfect opportunity for her to combine her love of people, her outgoing personality and
her social skills. She immediately started working on obtaining her license and from there hit the ground
running!
With 15 years in the business, Brettne definitely has lots of experience and the knowledge to help her
clients navigate the whole real estate process from start to finish, whether they are buying, selling or
both! She is truly passionate about her career and making sure her clients are 100% satisfied. She has
the ability to connect with each one of her clients and make them feel as if they are always top priority.
Brettne is incredibly caring, loyal, honest and most importantly a good listener. "She took time to listen
to our specific concerns and accommodated our needs throughout the engagement", says one client.
Know that if you choose her as your realtor, you will not be disappointed!
Send Brettne a Message